Q: WHAT KIND OF PEOPLE USE SALVIA...?
A: PEOPLE JUST LIKE US, AND MAYBE LIKE YOU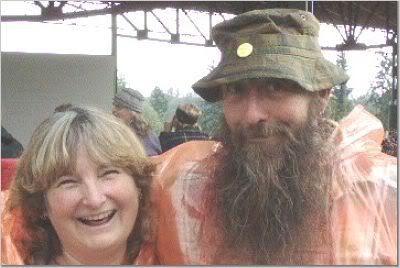 WHO WE ARE AND WHAT WE'RE UP TO...


(When Not Trying To Stay Dry At A Jimmy Buffet Concert)

Irene and I have been married for what seems like forever (well, OK, since 1998) already... we both enjoy motorcycle riding, GETTING TATTOOS, computers, backgammon, crossword puzzles, traveling, OFF-BEAT MOVIES, and Salvia Divinorum (etc) adventuring. In the past, Irene has been self-employed as a daycare operator, thrown freight at Home Depot, and was a county wide Soccer Club manager serving the needs of about 1000 kids. I've previously been self-employed as a vending machine route owner/operator, worked as a licensed apprentice Funeral Director and Embalmer, 7-11 clerk, Assisted Living Facility house manager, and was a registered Xray technician for 20 years. Received an honorable discharge from the USAF 1976-1980; Sgt. E-4, after 4 years, three months, and ten days UNTIL NOON of very conscientious service.
We currently reside in Lexington (population 1178), Texas, after having spent most of our lives in Washington State. We relocated here as of April of 2005... and look forward to spending our Golden Years basking endlessly in the sun. Our Original Plan was to open a laid-back Campground/Bed-N-Breakfast/Hostel For Old Hippies/Nudist Colony/Commune... SOMETHING like that, anyways. Things didn't QUITE work out that way, but we're always happy to welcome guests. So don't be shy -- if you're in the NEIGHBORHOOD, give us a holler.

Our first exposures to Salvia Divinorum were intimately Shared Experiences that have brought us even closer together as husband and wife, man and woman, and cosmic soulmates. Please feel free to contact us to ask about it... compare experiences... to tell us about yourself... or whatever. Everyone is welcome to join our community of Salvianauts.
Tell your friends about this site, pass the URL address around... here we are all of one tribe, hmmm?
Be sure to stop by the Guest/LogBook before you leave to say "Howdy" and get acquainted. EVERYONE'S WELCOME!
HOW TO GET YOUR FREE SAMPLE OF SALVIA
This information is being presented in response to your visiting my Just Say Once To Salvia website. Since I know you're looking to get a complimentary sample to check out for yourself, let's get right to it. Please -- READ IT ALL.
PLAIN LEAF SALVIA SAMPLES (AS WELL AS MY TIME AND EFFORTS, ETC) ARE OFFERED TO YOU FREE OF CHARGE. A SASE WITH A 44 CENT STAMP AFFIXED FOR RETURN POSTAGE IS REQUIRED TO RECEIVE THIS OFFER. I APPRECIATE ANY AND ALL FREEWILL CONTRIBUTIONS AND/OR FEEDBACK YOU HAVE TO OFFER.
Your complimentary sample packet will contain approximately 1.5 grams of plain leaf Salvia, enough for AT LEAST A FEW trials as an "incense" (or whatever you choose).
---
Mention you've got a "Green Thumb" and get a FREE sample of VIABLE grow-your-own Opium Poppy Seeds!
---
Be sure to check the website for explanations on how to make waterpipes and "Bucket Bongs" if you don't have one laying around the house already -- they are BY FAR the most efficient, effective, and economical way to get that 'breakthrough experience' you're looking for -- the VERY FIRST TIME. As the old saying goes, "YOUR MILEAGE MAY VARY". Only natural, organic plain leaf Salvia samples will be sent. You'll need to send me a specific written request as outlined below; email only requests won't cut it.
HERE'S WHAT YOU'LL NEED TO DO:
(1) SEND ME A LEGIBLE HAND-WRITTEN (printed preferred) NOTE, STATING "PLEASE SEND ME A SAMPLE OF SALVIA DIVINORUM and/or "Research Sample Designation (found on the Rabbit Hole home page)".
ALSO INCLUDE:
(2) YOUR REAL NAME.
(3) YOUR COMPLETE HOME ADDRESS.
(4) A DECLARATION OF YOUR CURRENT AGE (MUST BE AT LEAST 18+) AND THE DATE OF REQUEST.
(5) YOUR SIGNATURE, ATTESTING TO YOUR STATED AGE IN YEARS AND HAVING READ AND UNDERSTOOD THE OFFICIAL DISCLAIMER.
(6) YOUR CURRENT AND VALID E-MAIL ADDRESS.
(7) RETURN POSTAGE: AS MINIMUM, A SELF ADDRESSED STAMPED ENVELOPE IS REQUIRED.
---
WANT MORE? YOU CAN ALSO GET A HALF GRAM OF MY SPECIAL 6X SALVIA EXTRACT BY INCLUDING A $5 (U.S. CURRENCY ONLY) DONATION!


ADDRESSES OUTSIDE THE USA: A $5 donation and a self-addressed (not stamped) envelope is required... You'll receive samples of both plain leaf AND/OR (your choice) 6X extract/JWH-XXX "Pwanna" ONLY IF it is legal in YOUR COUNTRY/STATE, as per this link.
IF YOU WANT THE ADDITIONAL 6X EXTRACT, BE SURE TO MENTION THE DONATION IN YOUR REQUEST. DO NOT SEND COINS, 2-CENT STAMPS, FOREIGN CURRENCY, OR, MENTION "SALVIA" ETC ON THE OUTSIDE OF THE ENVELOPE. I LIVE IN A SMALL COMMUNITY AND TRY TO KEEP A "LOW PROFILE" EVEN THOUGH SALVIA IS LEGAL IN THIS STATE.
---
Samples generally get mailed out within a few days after I get your request. Requests that are illegible OR contain less than the above requested information will most likely be returned, ignored, mishandled, etc. Until further notice, this offer is available to residents of the U.S. ONLY in States where it isn't regulated or prohibited by law.
Be advised that SALVIA IS A VERY POTENT MIND-ALTERING ENTHEOGEN. It is NOT a 'party' drug, a 'recreational high', or to be used merely for 'fun'. You WON'T be walking around saying "Wow! This is really cool, man!" IF YOU HAVE ANY DOUBTS OF YOUR ABILITY TO HANDLE IT, DON'T DO IT!! I STRONGLY RECOMMEND you have a trusted 'sitter' available nearby for your first time with Salvia. You WON'T want to be pregnant, mentally fragile, or try driving a car/operating heavy machinery/playing with explosives etc while under its influence. The same is true of ANY substances available on this website.
Requests written in pencil or crayon will NOT be honored, nor will those that I feel fail to meet the above mentioned request criteria.
I, TIM MOSS, ASSUME AND ACCEPT NO RESPONSIBILITY FOR WHAT HAPPENS AFTER YOU'VE SENT YOUR REQUEST OR AFTER YOUR SAMPLE IS IN MY MAILBOX, NOR WHAT HAPPENS/WHAT YOU DO WITH IT ONCE YOU/ANYONE ELSE GETS IT. FURTHERMORE, I DO NOT SEND ANYONE ANYTHING THAT I KNOW OR SUSPECT IS ILLEGAL, AND DO NOT ADVOCATE ANYONE BREAKING THE LAWS OF THEIR COUNTRY.
You are hereby acknowledging you have read, understood, and agree to these terms in their entirety when you send in for this free offer.
I DO NOT COMMERCIALLY GROW SALVIA, NOR DO I SELL IT, NOR DO I HAVE ANY SEEDS... SO DON'T EVEN ASK. Fair enough? Allright!! I'll be looking forward to hearing from you soon -- if you have any further questions, direct your e-mail inquiries HERE. PLEASE DO NOT show up, unannounced, on my doorstep, expecially late at night, asking for a free sample. I'm not running a store and I work odd hours, so let's keep things ONLINE to begin with, eh?
Please visit the new-and-improved JSOTS Rabbit Hole for the most up-to-date discussions, FAQs, rants and raves, etc. BE ADVISED!! Your JWH-XXX Research requests (for example: "Tim -- I am requesting a Research Sample of JWH-XXX...") need to include your current valid email, stated age, signature, etc -- everything required for a Salvia request including a statement that you have read and understand the Official Disclaimer. Enclose a SASE, and enclose a $5 (US funds only; no coins) processing fee for the Research Materials. Typical research samples sent are enough so you'll have a number of research to decide if you want to try any more later. If so, you can get resupplied for a MUCH lower price if in bulk.

If you're an Old Head, you'll be ESPECIALLY INTERESTED in the new JWH-XXX forum threads posted on Erowid..

And oh... if you're not SURE Salvia is currently legal where you live, check THIS PAGE.



THANKS!


"OFFICIAL" DISCLAIMER AGREEMENT
This disclaimer absolves the creator(s) of this website ("Just Say Once To Salvia Divinorum") of absolutely everything whatsoever. By reading this sentence you hereby agree to whatever terms and conditions we see fit to inflict upon you. If you are STILL reading this, skip to the last sentence of this official disclaimer. The system operators reserve the right to refuse access to any person for any reason. This Site is meant for educational purposes only. Any resemblance to real persons, living or dead, is purely coincidental. May be too intense for some viewers. Some assembly required. Batteries not included. Contents may settle during shipment. Use only as directed. No other warranty expressed or implied. Do not use while operating a motor vehicle or heavy equipment. Postage will be paid by addressee. This is not an offer to sell securities. Apply only to affected area. For recreational use only. Do not disturb. All models over 18 years of age. If condition persists, consult your physician. No user-serviceable parts inside. Freshest if used before date on carton. Overseas orders promocode is "Yee Haw, Pard!" Subject to change without notice. Times approximate. Simulated picture. Breaking seal constitutes acceptance of agreement. For off-road use only. As seen on TV. One size fits all. Contains a substaintial amount of non-tobacco ingredients. Colors may, in time, fade. We have sent the forms which seem to be right for you. Slippery when wet. For office use only. Not affiliated with the American Red Cross. Drop in any mailbox. For incense use only; not for human consumption. Edited for television. Keep cool; process promptly. Post office will not deliver without postage. List was current at time of printing. Return to sender, no forwarding order on file, unable to forward. Not responsible for direct, indirect, incidental or consequential damages resulting from any defect, error or failure to perform. At participating locations only. Penalty for private use. Substantial penalty for early withdrawal. Do not write below this line. Falling rock. Lost ticket pays maximum rate. Your cancelled check is your recipt. Add toner. Place stamp here. Avoid contact with skin. Sanitized for your protection. Be sure each item is properly endorsed. Sign here without admitting guilt. Slightly higher west of the Mississippi. Employees and their families are not eligible. Beware of dog. Contestants have been briefed on some questions before the show. Limited time offer, call now to insure prompt delivery. You must be present to win, and you must be at least 18 years old to receive this offer. No passes accepted for this engagement. No purchase necessary. Processed at location stamped in code at top of carton. Not available for members of any unsanctioned organizations. Use only in well-ventilated area. Keep away from fire or flame. Replace with same type. Approved for veterans. Booths for two or more. Check here if tax deductible. Some equipment shown is optional. Price does not include taxes. No Canadian coins. Not recommended for children. Prerecorded for this time zone. Reproduction strictly prohibited. No solicitors. No anchovies unless otherwise specified. Restaurant package, not for resale. List at least two alternate dates. First pull up, then pull down. Call toll free before digging. Driver does not carry cash. Use with caution. Some of the trademarks mentioned in this product appear for identification purposes only. Record additional transactions on back of previous stub. Void where prohibited. This "official" agreement may or may not supersede all previous notices and agreements (except for everything ABOVE it)... and, if you DON'T think this is funny OR are REAL, REAL serious about technicalities (and/or have any affiliation with, or, are affiliated in any way with any legal/official organization) then please read this whole "official" disclaimer, because every damn word of it is TRUE, so help me God.
*******************************************************************************
NO SALVIA TO MINORS, ETC. I have a "no-second-chance, zero-tolerance" policy, and take what I'm doing seriously.
1. If you've simply tried to make an EMAIL WRITTEN request, you won't get anything; you MUST send a PHYSICAL REQUEST.
2. No samples will be sent to third parties. Anyone who sends a written request with an email address that proves to be undeliverable is also out of luck. I need your valid address so I can send you a confirmation email that it's on the way.
3. Written requests that do NOT contain ALL the requested information will be returned.
4. IF IN ANY CASE AND FOR ANY REASON YOU STATE/ATTEST WITH YOUR SIGNATURE THAT YOU ARE 18+ -- AND I EVEN REMOTELY SUSPECT/DISCOVER YOU ARE NOT -- I may (and without warning) take your written request (and donation, if any) and send it BACK to you with "ATTENTION!! TO BE OPENED ONLY BY ADULT HEAD OF HOUSEHOLD!" written in BIG RED LETTERS on the outside of the envelope.
I realize I'm not going to get everything right, every time. Sure, I make mistakes... and if I do... please respond back with a photocopy of your signed photo I.D.
Hopefully, these guidelines will be evidence to the fact that I'm doing the best I can to be responsible to those who want to Just Say Once.

Tim Moss, WebMaster
Just Say Once To Salvia
--------------------------------------------------------------------------------